Just an hour away from Barcelona and near Univeral's Port Aventura Thematic Park, the last Spanish Enduro course was done. In a beautiful place the guys of Moto Automobil Club Reus made a old style enduro with a hard rally section. (not so hard as I could pass ovet it with no major problems). As all the different senior categories winners had gotten their tittles in the previous course in Valverde and only the scracth had no winner, all the top pros were more worried about next races and relax than compiting.
All the top 20 racers decided to stop their race in Chronometered spot 1. As one of them told us afterwards, they decided it the day before when the organization refused to change the --dangerous sections--. Being so close to a big amusement park - what could be better than go there and enjoy?- and so they did (some of them). I understood why Tianien's eyes were so bright that morning...
Anyways, a lot of big rocks, a few Husabergs, a cloudly day, bad film, worse pictures, getting up at 5:30 AM... could not spoil my Enduro passion.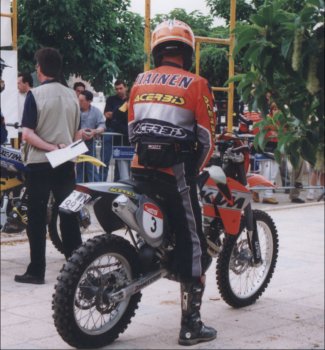 Tianien.